In my blog about that first big dance party, I already mentioned that to me, Kizomba is the prettiest of them all. Versatile, creative, connective. As I see it, Kizomba is not just dancing to the music; it is dancing within the music. If that makes sense? Anyway. Regardless your skills right now, at some point we all started at the beginning. And no matter where you took those first Kizomba steps, no matter the classes you had or the bootcamps you went to… there is a serious risk of becoming a Kizomba addict. Before you know it, you start going to socials, parties, festivals… and sooner or later you will see them: the dancers of Kizomba Lounge. Kizomba Lounge, as in 'Annika Lau'. One woman, such a big name. Fascinating. Curious as I am, I asked her if she would like to talk with me…
A passion for dancing…
     Rotterdam, Van Alkemadehof – Annika just finished a private lesson and we decide to look for a suitable place to sit and talk. Vesan, across the street it is; with a fresh mint tea for Annika and a cappuccino for me.
First thing I notice, is that despite the fact that Annika – being a busy woman – looks quite tired, she also seems very 'in sync' with herself. Calm. While unwrapping the plastic foil of the plastic stick that contains honey, she frowns. "More plastic…"
Born in Magdeburg Germany (1983) Annika discovered at a young age her passion for dancing. When she was 5 years old, she started with gymnastics, but soon switched to dancing. She joined the children's ballet, which is part of the Revue Theater Berlin. At the age of 10, she continued her career as a young dancer at the Staatliche Balletschule Berlin, graduating when she was 19 years old.
It is during her school time, in 2000, that Annika discovered her passion for salsa and she joined various dance teams, resulting her performing at the international Salsa Festival of Berlin. After her graduation, she worked in a restaurant and danced in a show team – feathers and all included – and performed at events and business parties. Although she was having a good time, Annika already knew this would be a temporary thing. She wanted more.
In 2004, when visiting friends in The Hague, Annika decided to stay in the Netherlands a bit. Temporarily at the beginning, but life takes it's turn and Annika stayed. She started dancing in the Salsa Dance Squad (The Hague) and from there many projects and shows followed…
At the age of 24, in 2007, Annika started her own dance school – Luv2Dance.
After this show, Annika offers to help Albir & Sara with the sound during their workshop. At the time there was no Bluetooth, Annika explains, so to avoid Albir having to run up and down to handle the music, she took care of that for them. Whilst being their "DJ", she watched the workshop Albir & Sara were giving: Kizomba.
     Annika smiles at that memory. "I was fascinated. I didn't see any standard steps or fix moves. I watched them dance and thought: How does this dance work? How does she know what to do, how to follow? I really wanted to know." Later that evening, at the party, Annika danced her first Kizomba ever – with Albir. She grins. "I had no idea what I was doing." 
Back in the Netherlands Annika's pursuit for Kizomba continues. She regularly went to Goirle, to the Kizomba parties organized by Na Passada. It is at these parties, Annika learned more about Kizomba, although she was actually waiting for one of the bigger dance schools in Rotterdam to pick this up and start organizing Kizomba socials. After a few months of waiting and still feeling this growing urge, Annika decided to take matters into her own hands. It is Inaki who gave her that final push, to make that first move. When Annika stated she didn't feel like she was a good enough Kizomba dancer yet, it is Inaki who points out to her that she doesn't have to be a great dancer, to organize a great party.
     At September 19th 2012, only 6 months after the first time she danced Kizomba in France, the first Kizomba Lounge is a fact and takes place in Het Doelencafe in Rotterdam. With help from Railey she learns what DJ to set at the turntable and who to ask as teachers. This is how she meets Jose and Mattias from KizombaLove in Belgium. It will be Mattias, being an excellent technical dancer, who then sets the high standards for Kizomba Lounge as a dance school today.
Kizomba, Rotterdam and a Lounge.
     Kizomba Lounge turns out to be a big success. The bootcamps, classes, parties and socials are very popular and well visited. Annika herself though hardly ever dances 'just for fun' any more. She still loves to teach and she still does loves to dance, but there just isn't enough time. Or energy, for that matter. "At one point I was so tired, I just wanted to sleep… and I realized I had to take a step back." What started as a Kizomba social 7 years ago, had become too big for her to do it all by herself. She expanded the Teacher Team with Melvin and Gabriela and their efforts turn out to be priceless. "My best decision ever," as Annika puts it.
Next to the Teacher Team, there are also the Kizomba Lounge Dancers. Annika picks her taxi-dancers herself. Quality is key. Always. Which doesn't makes things easier, btw. When Annika has her eye set on some very promising dancers, she usually waits for them to reach that particular high standard, but then they often are already snatched away by other taxi-dancer teams. She shrugs her shoulders. "It's the risk you take."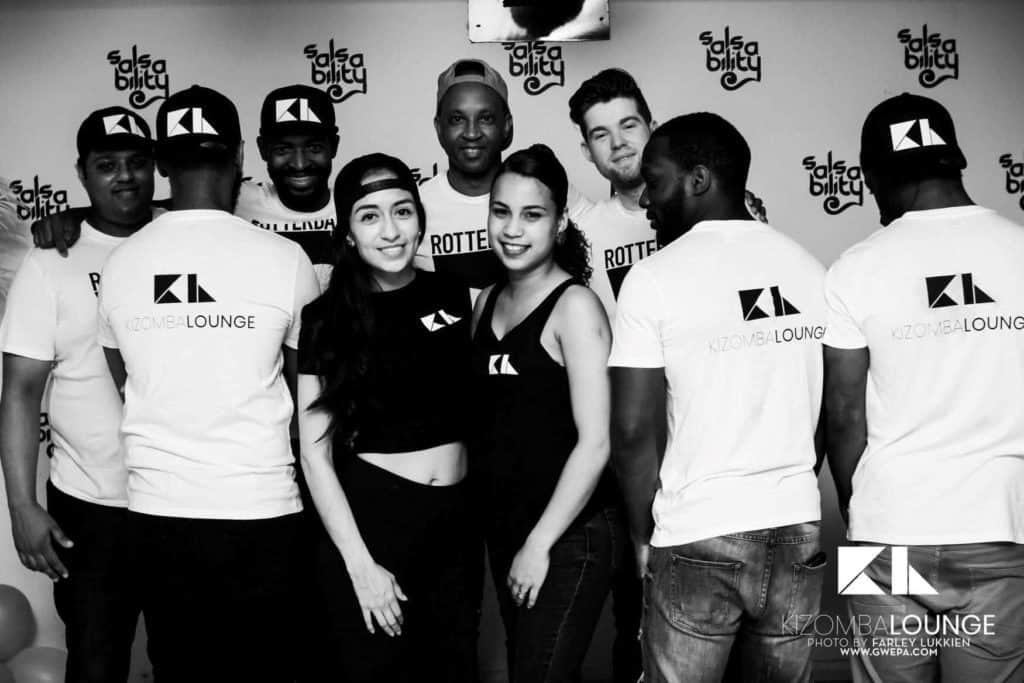 The secret of success…

To me, the secret of Kizomba Lounge seems to be the fact that quality comes first. Whether it is the teachers, both the regular teachers as the guest teachers, the taxi-dancers or the KL students… there is no discount on quality.
The level of dancing standard, once set by Mattias, is still held high. Even when this means certain students will bounce off. Because you don't get to level up just by participating a class. You only level up when the teacher says you are good enough. "That is never personal, by the way. It is always about technique and skills. It is my goal to get the best out of every student. Never neglect your base, use frame leading and following, and dance light. If you are not able to lead or follow light, you will not level up," Annika explains.
Kizomba Lounge Family.
Kizomba Lounge appears to be more like a family, rather than a company. Annika seems well aware of the fact that she has gathered some amazing people around her. During our conversation, several times she mentions how she gets so much help. Being it from Pascal, Mert, Asienho or Daniëlo, they all contribute to success of KL.
She talks about Dwe, her current dance partner, and how proud she is of him. "That first time I danced with him, I immediately recognized his potential as a dancer. He joined our show team and then soon started assisting me. By the time he was able to teach a full workshop on his own, Dwe & Annika was a fact." She smiles. "He grew so much. The way he developed his own style, the way he combines Urban Kizomba with Kizomba/Semba footwork, makes him truly unique."
With one eye on my phone – time is flying – I ask her about the Kizomba Lounge Festival. I mention the video on her website, recorded in 2016, in which she already mentions her plans for a festival. Annika nods. "It was the location," she explains. "The difficulty was to not only find a suitable location and a decent, payable hotel; it was most of all to find parking options, which made it so difficult. Because when you want to deliver the full package, as in socials, workshops and late night parties, you want this to be accessible for everyone. I wanted to organize a festival where everybody can go to, being it the fancy option in a 4-star hotel, or being it the budget option with the Ibis budget hotel right next door. Without being ruined by parking fees."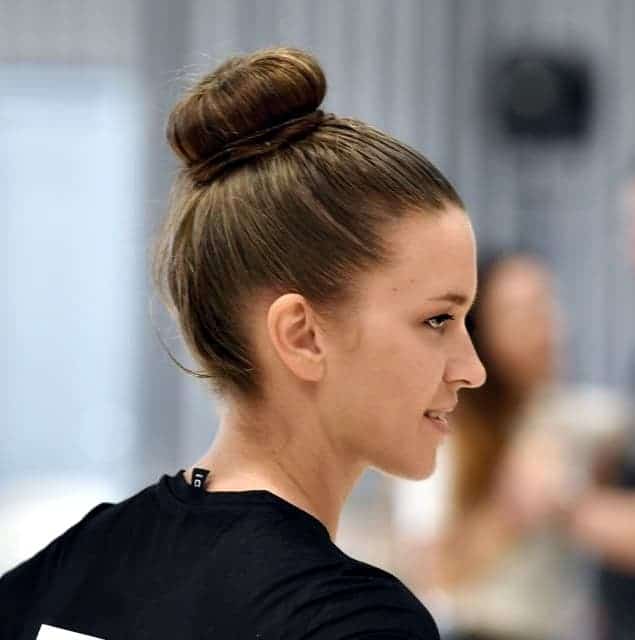 It was Clifton who suggested the current location for the Kizomba Lounge Festival. "I am just so grateful for all the help I get. We are so busy organizing the festival. So many of our team help out wherever they can, Melvin takes over so many of my previous task and I would be lost without Khalid en Rachana, as my right and left hand."
Boss Lady.
 We finished our drinks and have been talking for over an hour. Time to wrap it up, as I know Annika has a next appointment set for that evening. 
I have two finals question, the first one is about the 'Boss Lady'. Annika grins when I use that phrase. "Yup, that was Daniëlo. He introduced that term, probably because most bosses are men."
My other question is about whether she has an example, a role model that she looks up to. Her answer is down to earth…